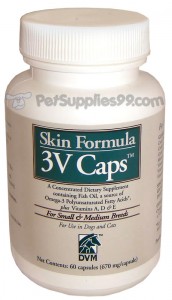 60 Pills Small – Medium
$8.99
60 Pills Small – Medium
$14.79
250 Pills, Large – Extra Large
$51.99




If your dog's coat is loosing its shine and healthy looks, then 3v caps is the supplement which can help it restore the shiner healthy coat. This provides vitamin A, D and E along with supplemental source of omega 3 fatty acids.
Recommendation
This medication contains the vitamins and mega 3 fatty acids which help in soothing inflammation, itchiness and infection which are caused by allergies. It also protects the pet's skin from environmental toxins.
Manufacturer
DVM is the manufacturer of 3v caps.
Directions
The dosage depends on the weight of dog. It is given daily and the capsule can be mixed with food if you wish to give it with food to your pet. 1-2 capsules per day is the normal recommended dosage [depending on weight].
Ingredients
The source of vitamin E is dl-alpha tocopheryl acetate and for vitamin A and D cod liver oil is used. Other ingredient is fish oil.
Side Effects
No side effects have been reported so far.