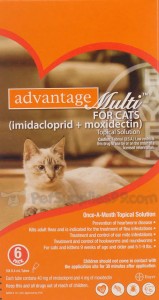 3 Month
6 Month
12 Month
Purple (Cats over 9lbs)
$37.00
$62.00
$119.00
Orange (Cats under 9lbs)
$36.00
$62.00
$119.00




If your cat is suffering from parasitic problems then all your cat needs is Advantage Multi for Cats which is more than just a flea control medication. It not only kills adult fleas and prevents infestation but it also controls roundworm, heartworm disease, whipworm and hookworm. In addition, Advantage Multi for Cats can also be used for controlling and treating ear mites.
Recommendation
Advantage MULTI for Cats is a monthly topical solution that prevents your cat not only from heartworm disease but also controls fleas, ear mites, parasites and intestinal worms.
Manufacturer
Bayer is the manufacturer of Advantage MULTI for CATS. It is also branded under the name Advocate for Cats in Canada, Australia and other countries.
Directions
For dosage, consult your veterinarian. For applying, break the seal of the product and apply it to the exposed skin by parting the hairs at the base of cat's head. Apply the entire content of the tube and remove the pressure by lifting it away from the exposed skin. Keep it away from eyes and ensure that cat or other pets do not lick the site of application. If you have more than one pet at home then separate them so that licking is prevented.
Ingredients
10% Imidacloprid and 1% Moxidectin are main ingredients.
Side Effects
It depends on the sensitivity of cat and can lead to behavioral changes in individual cases. It can also lead to coughing, increase in thirst, hyper salivation or gagging. Call a veterinarian if any such symptoms appear. Also building up of oil in the fur is also one of the possible side effects. It is strongly advised not to use Advantage MULTI on underweight or sick cats. Also its for topical use only and in case its given orally it can lead to vomiting and loss of appetite along with tremors and hyper salivation.
Safety
If you are concerned about the safety of Advantage Multi for Cats and need more information, then check out the material safety datasheet (MSDS) available as PDF provided by manufacture Bayer.


Material Safety Datasheet (MSDS)