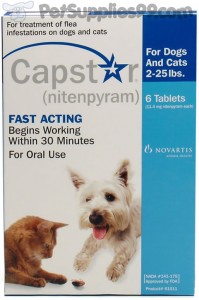 Dogs Over 25 lbs, 6 Tablets

$30.00

Dogs or Cats 2-25 lbs, 6 Tablets

$28.99




You might wonder how much time will it take to start working. But the fact is that it starts working within 30 minutes and thus provides an instant relief to your cat or dog from fleas. Capstar Flea Killer is a very effective medicine and a single dose is effective enough to kill the fleas but if needed it can be given once in a day. Its effectiveness makes it a must for pet supplies.
Recommendation
The biggest advantage of Capstar Flea Killer is that its safe for even breeding and pregnant animals. More over you can't ask for a speedy relief from flea infestation.
Manufacturer
Novartis is the manufacturer of Capstar Flea Killer
Directions
Capstar Flea Killer is an instant flea killer that can be used for both dogs and cats which are at least four weeks old and are at least two lbs in weight. A single dose of this very effective flea medicine can provide instant relief from a flea infestation. A single dose of Capstar Tablets should be sufficient to eliminate a flea infestation, but it can be given safely once per day to both dogs and cats that weighs at least two lbs. and are at least four weeks old. It can be placed directly in a pet's mouth, orally or can be mixed with food.
Ingredients
Nitenpyram is the main ingredient of Capstar Flea Killer
Dosage
Weigh your pet before administering this flea medication to ensure you are treating your pet properly. Do not give this medication to any pet under 2lbs. Dog or Cat 2-25lbs, one tablet at 11.4mg. Dog 25.1-125lbs, one tablet at 57.0mg.
Side Effects
Capstar Flea Killer is a very safe medicine and no side effects have been reported so far. The only reaction seen is that your pets may start scratching and that also due to dying of fleas. This medicine can be given to pregnant pets and can also be given to pets which are on any other medication.
Safety
Capstar is safe for dogs and cats that are over 2lbs in weight. Capstar is safe for cats and dogs that are nursing and/or pregnant. Keep out of reach of children, and not for human use at all whatsoever. Capstar can be used with heartworm preventatives and other products. Safe to use while using Corticosteroids, antibiotics, de-wormers, vaccines, shampoos, or other flea products.