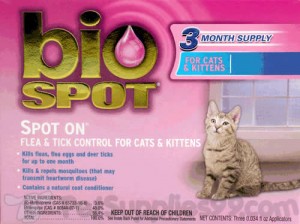 3 Month Supply Over 5lbs
$19.50
3 Month Supply Up to 5lbs
$18.95




To protect your cats from parasites like fleas, ticks, mosquitoes etc, Biospot SpotOn is one of the best medicines. It not only kills the adult fleas but also kills the eggs and larvae thereby destroying the complete life cycle within 24 hours of its application. Biospot SpotOn for Cats is also very effective in preventing the Lyme disease and heartworm disease. Not only this, Biospot SpotOn is also very good conditioner for your cat's coat and provides it a smooth look.
Recommendation
Biospot SpotOn lasts for 1 month and provides protection form fleas, ticks and also prevents Lyme disease and heartworm disease. Apart from this it is also a very good conditioner for your cat's coat
Manufacturer
Farnam is the manufacturer of Biospot SpotOn.
Directions
Biospot SpotOn is to be used for cats which are 12weeks or older. It should be applied once in a month and applied at the base of the skull.
Ingredients
Pyrethrins, N-Octyl bicycloheptene dicarboximide, Piperonyl butoxide, Di-n-propyl isocinchomeronate are the main ingredients.
Side Effects
Farnam Biospot for Cats contains pyrethins which can cause minor problems like ear and paw flicking, hypersalivation, skin irritation etc only in cats which are sensitive to it. Do not use this on cats which are pregnant or nursing pets, aged, debilitated or cats which are under some medication already until and unless its is guided by a veterinarian.