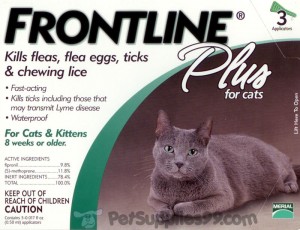 3 Month Supply
$34.99
6 Month Supply
$66.99
12 Month Supply
$130.99




If your cat is suffering from fleas and ticks then stop searching more and provide your cat a complete relief by ordering Frontline Plus for Cats today. This is very effective and can take control of 98-100% of fleas within 24 hours of its application. Not only this it continues to work for an entire month and thus provides an overall relief to your cat. The strong point of Frontline Plus for Cats is that it leaves no chance for survival of fleas as it kills even the eggs and larvae thereby destroying the entire life cycle. It provide cure from all the four major type of ticks including the carriers of Lyme disease.
Frontline Plus for Cats is a water resistant medicine and thus your cat can enjoy the daily routine without even worrying about the medication. Swimming, bathing and all other routines can be followed as usual and this is even safe for kittens 8 weeks or old in age.
Recommendation
Frontline Plus completely eliminates the infestation by ticks and also by fleas and also protects from Rocky Mountain Spotted Fever and Lyme disease. Due to water resistant nature it provides complete protection for atleast 30 days and thus we don't even have to bother about the pet schedule. If you have dogs, Frontline Plus for Dogs is useful for dogs only and not to be used on cats. Also if you do not have a terrible infestation, then Frontline Topspot is good except it doesn't kill the larvae stage of fleas.
Manufacturer
This is manufactured by Merial
Directions
Frontline Plus is administered once in a month and is even safe for kittens that are 8 weeks old. Application is rather very easy. Just open the applicator keeping it away from your face and body and holding it in upright position. Then part the hairs between cat's shoulder blades and squeeze the tube completely by placing it on the exposed skin. Make sure it is applied to the skin and not the hairs.
Ingredients
S-methoprene and Fipronil are the ingredients.
Side Effects
There are no reported side effects but depending on the sensitivity of your pet, some might occur. So contact your veterinarian immediately.