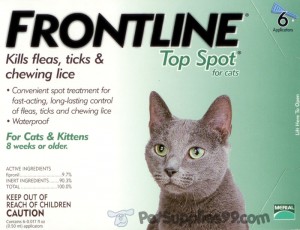 3 Month Supply All Weights
$36.16




Can you rely on products or medicines which you have never heard of? Of course not so go ahead with Frontline Topspot for Cats to protect your cat from ticks and fleas which has received Good Housekeeping Seal of Approval.
Frontline Topspot is very easy to apply liquid which kills 98-100 percent of the prevailing fleas within 24 hours of its application. It can be applied to cats 2 months old and is water proof therefore you do not need to worry even if your cat swims or baths.
So if your medicine cabinet lacks Frontline Topspot then order it today for complete protection of your cat from ticks and fleas. If you want to kill the larvae stage of fleas then Frontline Plus for Cats might be the best pet medication of choice.
Manufacturer
Merial is the manufacturer of this world class product.
Directions
To apply Frontline Topspot open the applicator by keeping it away from face and body and holding it upright and then squeeze the entire content o f the tube to the exposed skin (parting the hairs from shoulder blades)
Ingredients
Fipronil is the ingredient of Frontline Topspot
Side Effects
No typical side effects reported but it depends on the sensitivity of your pet. So in case of any problem call your veterinarian