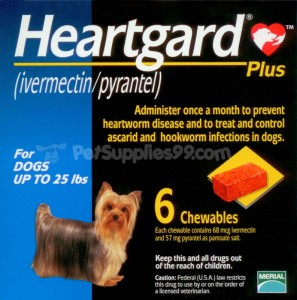 6 Month
12 Month
Blue (up to 25 lbs)
$32.00
$57.00
Green (26 – 50 lbs)
$44.00
$79.00
Brown (51 – 100 lbs)
$57.00
$78.00




About Heartgard Plus for Dogs
When ever we are talking about medication for our pets, we should make sure that it is the best for our pet. To prevent canine heartworm disease, EPA and FDA has approved a chewable tablet which is to be taken on monthly basis known as Heartgard PLUS. For our dog's health, Heartgard PLUS is the most effective medicine which kills hookworms, roundworms and heartworms.
Ingredients
Ivermectin and Pyrantel Pamoate are the two most active ingredients of Heartgard PLUS. These two ingredients kill the parasites and thus save them from the attack of heartworm disease.
One of the biggest advantages of Heartgard PLUS is that it can be used safely on pregnant and even nursing dogs. Not only this, Heartgard PLUS can also be used safely for puppies that are 6 weeks old
The manufacturer of the world famous medicine is Merial
Directions for Usage
It should be given once a month for a complete year. One thing should be kept in mind that the pet should not swallow it rather it should be chewed
The pet owner should thus break it into smaller pieces so that it is not swallowed. It comes in unflavored and flavored chewable tablets.
Dosage depends on the weight of the dog. Normally following trend is followed
For 25 pound dog – 68mcg
For 26-50 pound dog – 136mcg
For 51-100 pound dog – 272mcg
Over 100 pounds – Combination of tablets is given.
Side Effects
Although Heartgard Plus has no such side effects but in rare cases, if the dose exceeds the tolerable limits it can cause dilated pupils, tremors, blindness, disorientation, loss of weight or even death in rarest of rare case.
End Note
Before giving Heartgard Plus to you dog, make sure you have got all the tests done and make sure your dog is uninfected as it is a preventative drug and should only be used on uninfected dogs.