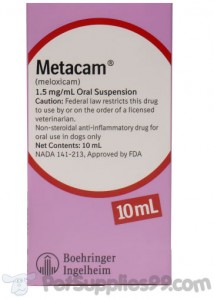 100mL 1.5mg/mL
$97.99
10mL 1.5mg/mL
$18.99
15mL 0.5mg/mL
$23.99
180mL 1.5mg/mL
$165.99
32mL 1.5mg/mL
$48.99




If your dog is suffering from any of these – lameness, pain, inflammation, osteoarthritis, arthritis etc due to chronic and acute musculoskeletal disorders like arthropathy disco-spondylosis and soft tissue injuries then Metacam is the product you should opt for. It is a NSAID (non-steroidal anti-inflammatory drug). It is suitable for dogs which are allergic to NSAID based products.
Manufacturer
Boehringer manufactures of Metacam
Directions
Metacam is suitable for dogs that are at least six months of age. Dosage depends on the weight of the pet and it is a daily administered. The dosages details are per the weight are given on the syringe. Before using it shake it well and then fill the syringe as per the weight and put it in dog's food. If given directly in the mouth then make sure that it is done just after dog is fed.
Ingredients
Meloxicam is the main ingredient of Metacam
Side Effects/Precautions
It should be noted that Metacam is not given along with any other anti-inflammatory drug. It can cause vomiting, diarrhea, loss of appetite, soft stool. In rare cases when the dog already suffers from any preexisting renal, hepatic or cardiovascular problems, it can cause renal toxicity.
Consult a veterinarian in case of any such problems.