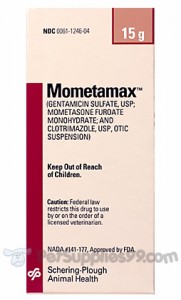 15g Bottle
$29.40




If your dog is suffering from Otitis Externa i.e. ear infections, Mometamax is the product which can be used for its treatment. This ear infection is caused by bacteria and yeast. Mometamax is special pet care product with antifungal, antibacterial and anti-inflammatory properties.
Manufacturer
Schering-Plough are the manufacturer of Mometamax.
Ingredients
One gram of Mometamax Otic Suspension contains 3mg USP( oil base having plasticized hydrocarbon gel), gentamicin sulfate. The base contains mometasone furoate monohydrate and 10mg clotrimazole.
Side Effects
This medication can cause loss of hearing in some dogs.