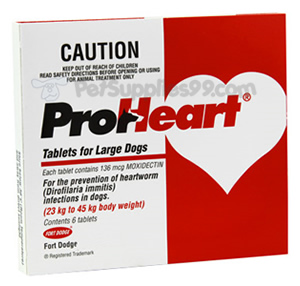 Blue – Small Dog up to 22lbs (6 Pack)
$27.00
Green – Medium Dogs 22-50lbs (11-22kg) (6 tablets)
$29.00
Red – Large Dogs 50-100lbs (23-45kg) (6 Tablets)
$30.00
Yellow – Extra Large Dogs 100-150lbs (46-68kg) (6 tablets)
$32.00




Proheart is used for the treatment of heartworm in dogs.
Recommendation
The use of Proheart tablet is to control the disease of heartworm in dogs. The dog acquires this deadly heartworm infection through the mosquito bite and is transmitted from dog to dog. The heart and lung are infested by this disease and can even cause death.
Manufacturer
It is marketed by Fort Dodge.
Directions
Proheart tablet is given once a month and throughout the year to dogs. It should not be given to puppies below 4 weeks of age. The animals allergic to it should not be given this medicine. Humans can be affected by this product as it causes eye irritation in them and if it is swallowed. Hands should be properly washed after use.
Ingredients
The ingredient used in Proheart is Moxidectin.
Side Effects
Its side effects are rare when the dosage is recommended.