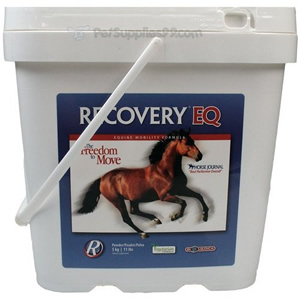 Brand EQ 1000 grams
$71.00
Brand EQ 5000 grams
$252.00
Brand EQ with Hyaluronic Acid 1000 grams
$99.00
Brand EQ with Hyaluronic Acid 5000 grams
$348.00
Brand SA Freedom To Move 100 grams
$19.00
Brand SA Freedom To Move 350 grams
$36.00
Brand SA Freedom To Move 1000 grams
$78.00




Recovery EQ is mainly used in degenerative disease and lameness from injury in horses.
Recommendation
It is an award winning new generation nutraceutical having anti-catabolic and anti-inflammatory effects. It assists in the circulation improvement of tissues in horses. It is used for recovery of surgery, pain and inflammation that are linked with conditions of degenerative.
Manufacturer
Biomedica manufactures Recovery EQ.
Directions
Recovery EQ is given to horses of two months age or older and is administered ¼ to ½ scoop daily as per body weight of 300 pounds. It is mixed with food or as directed by the veterinarian.
Ingredients
1. The primary active ingredient is Nutricol.
2. Other secondary ingredients are: Glucosamine Hydrochloride
3. Vitamin C (Magnesium Ascorbate)
4. Methylsulfonyl Methane
5. Trimethylglycine Hydrochloride
6. Vitamin E
7. Magnesium Ascorbate
8. Hyrluronic Acid
Side Effects
If the dosage is increased too rapidly then it may cause loose stool, hypersensitivity at previous injury sites, nausea, symptoms of flu like, gastrointestinal irritation, minor skin reactions and fatigue in very few cases. Increased frequency of urination is even experienced temporary in the horses with conditions presenting edema. Dosage should not be given in the evening to avoid urination problem.