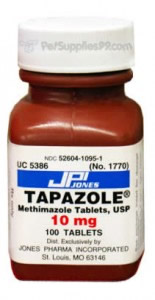 Generic 5mg 100 Tablets
$32.00
Generic 10mg 100 Tablets
$48.00
Brand 5mg 100 Tablets
$39.00
Brand 10mg 100 Tablets
$133.00




Tapazole is one of the medicines for cats which is used for the treatment of Hyperthyroidism.
Recommendation
It is an antithyroid medication which is used for cats treatment of hyperthyroidism.
Manufacturer is Various.
Directions
Tapazole is to be used as specifically mentioned by your veterinarian.
Side Effects
Though no major side effects are reported but still it can cause hives, rashes, itching, drowsiness, lack of appetite and edema.