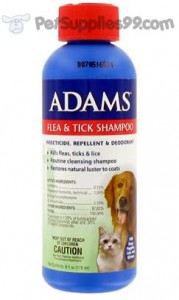 Bottle
$12.92




If your pet is bothered by fleas, lice or ticks then use Adams Flea and Tick Shampoo which is specially made for providing relief to your pet. It is a very rich lathering shampoo which can be used for both dogs and cats. Also it can be used on kittens and puppies that are only 12 weeks old.
Recommendation
Adams Flea and Tick Shampoo protect your pet not only from fleas, lice and ticks but also repels flies, gnats and mosquitoes. It provides a conditioning and deodorizing and thus makes your pet's coat a lot healthier and shiner.
Manufacturer
Farnam is the manufacturer of Adams Flea and Tick Shampoo
Directions
Wet the coat of your pet with warm water and then gently apply the shampoo on the coat. Work it gently protecting the eyes, nose and ears and leave the form on the coat for 3-5 minutes. After that wash the entire coat thoroughly and ensure that shampoo is totally removed from the coat. Use towel to dry. Use this shampoo once in every 2 weeks for all round protection.
Ingredients
Butoxide technical, Pyrethrins, Piperonyl,N-Octyl bicycloheptene dicarboximide, are some of the ingredients of Adams Flea and Tick Shampoo
Precautions/Side Effects
This product is not suited for pets less than 12 weeks of age. Also consult a veterinarian before using Adams Flea and Tick Shampoo on debilitated, geriatric or medicated pets. Under no circumstances this should be inhaled or consumed. Keep Adams Flea and Tick Shampoo away from children reach and wash your hands with soap after giving bath to your pet.