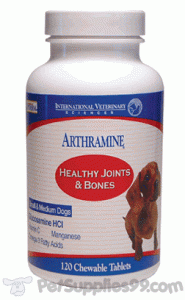 120 count, Small Breed
$18.99
120 count,Large Breed
$21.59
60 count, Large Breed
$12.30
60 count, Small Breed
$11.36




Arthramine consists of several active ingredients which provide supplemental nutrition to your pet and thus maintains healthy joints. Free movement of your dog can be hindered with rising age due to pain, stiffness or inflammation.
Recommendation
It is available in liver flavor so its very appealing to your pet. So buy it now to maintain healthy joints of your pet.
Manufacturer
Arthramine is manufactured by Intl Vet Sci
Directions
The dosage of Arthramine depends on weight of your dog. It is available in chewable tablets and 1 tablet per 75lbs of weight of body is administered. In case you wish to give it to small dogs then break the tablet in small pieces.
Ingredients
The main ingredients are listed below:-
1. Glucosamine (500mg)
2. Vitamin C (120mg)
3. Omega-3 fatty acids (20mg)
4. Manganese (20mg)
Side Effects/Precautions
No major side effects are reported but in case of over dose your dog may experience diarrhea