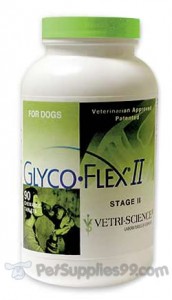 600mg, 120 Chewables
$23.97
300mg, 250 Chewables
$24.87
300mg, 500 Chewables
$44.50
600mg, 300 Chewables
$53.67




Glyco-Flex is a very nutritional dietary supplement which is suitable for all breed of dogs. It comprises of Perna Mussels which consists some important nutrients which are helpful in the management of degenerative arthritis.
Features/Use/Recommendation
Glyco-Flex is very effective supplement whose nutrition value is due to the biological activity of 57 items in the Perna Mussel.
Manufacturer
Glyco-Flex is manufactured by Vetri-Science
Ingredients
It consists of
1. 600mg Perna Canaliculus (Green-Lipped) Mussel
2. 200 mg Brewer's Yeast
3. 200 mg Alfalfa
Directions
The direction of Glyco-Flex depends on the weight of your dog.
For dogs weighing up to 15lbs
Give 2 tablets per day for the initial 4-6 weeks period and after the initial period give 1 tablet per day.
For dogs weighing between 16lbs-30lbs
For initial period give 3 tablets per day and after the initial period is over give 2 tablets per day.
The tablets should be administered between AM and PM. Buy 600mg tablets for your large dogs.
Side Effects/Precautions
No side effects are known till date.