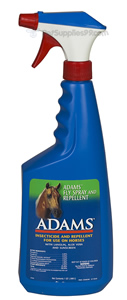 Spray 32 oz
$26.00
Conc Spray 32oz
$25.99
Fly Repellent Spray for Dogs 125mL
$12.00




Adams Fly Repellent Spray is especially made for horses.
Recommendation
Adams Fly is an insecticide and repellent that is used for horses to kill and repel mosquitoes, house flies, chiggers, lice, face flies, gnats, stable flies, ticks and mites. It includes Aloe Vera, sunscreen and lanolin.
Manufacturer
Adams Fly Repellent Spray is manufactured by Adams.
Directions
First of all, remove loose debris and dirt with the help of brush before the start of application. The coat should be cleaned with a good cleansing shampoo for dirty horses.
Secondly, when the coat is dry then Adams Fly Repellent is sprayed on entire surface but precaution should be taken that the product does not enter into horse's eyes, sensitive areas like nose or mouth.
Lastly, to ensure adequate penetration, the coat should be brushed while spraying against grain. It should be applied with a clean sponge or cloth as a wipe.
Initially it should be applied daily for two or three days. The treatment is repeated for five or ten days when the infestation started subsiding or it can be used as per the prescription of a veterinarian. It should also be reapplied again when the horse is washed or wet due to heavy rain.
One should wear water proof gloves and safety glasses before spraying this product as it can cause eye injury. Do not smoke while using this product and after applying wash the hands instantly.
Ingredients
Adams Fly Repellent Spray contains:
Permethrin I (3-phenoxyphenol) methyl (±) cis, trans-3 (2, 2-dichloroethyenyl) 2, 2-dimethyl cyclopropane carboxylate
Pyrethrins
Piperonyl butoxide
N-Octyl bicycloheptene dicarboximide
Di-n-propyl isocinchomeronate
Butoxypolypropylene glycol
Side Effects
Till now, no side effects have been reported.