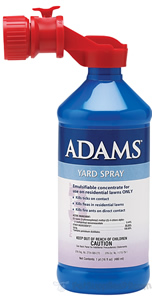 16oz
$21.25




Adams Yard Spray is beneficial as it kills various types of insects.
Recommendation
Adams Yard Spray is used in residential and commercial lawns that quickly repels and kills mosquitoes, crickets, ticks, fleas and other insects.
Manufacturer
Adams manufactures this product.
Directions
Do not spray on animals and while spraying pets and children should be kept out until the spray has dried. Only hose-end sprayer cap should be used along with lawn spray bottle. Cut the lawn one day or two before spraying. The entire lawn area should be sprayed by slow and sweeping motion where the pets frequently roam. The spray should be done under trees and ornamentals without soaking small plants. The treatment is repeated at an interval of seven to fourteen days.
Ingredients
Cyano(3-phenoxyphenyl)methyl-(S) chloro-alpha-(1methylethyl) benzeneacetate are the active ingredients of Adams Yard Spray.
Side Effects
Till now no side effects have been reported.