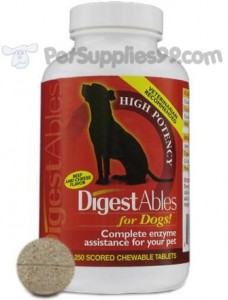 Beef and Cheese Flavor, 120 Chewable Tabs
$22.28
Beef and Cheese Flavor, 250 Chewable Tabs
$39.61




Digestables for Dogs is an important nutritional supplement which provides full enzyme help for nutritional absorption. It is in the form of chewable tablets which are very helpful in absorbing and digesting nutrients in your dog's diet. Digestables tablets are available in cheese and beef flavor and contains 100% finest human grade ingredients. So this medication is not only safe but also your dog will find it tasty and delicious.
Recommendation
This medication is used to provide all the essential nutritional supplements your dog needs. These chewable tablets help in absorption of fatty acids and nutrients which are given to the dog in the meals. Also these are useful in treatment of digestive or immune disorders, shedding, skin and coat problems, lethargy, coprophagia, problem in joints, weight issues, bloating, allergies or flatulence.
Manufacturer
Digestables for Dogs is manufactured by PetLabs360.
Directions
Digestables for Dogs should be given before the meal. Give one tablet per cup of food. These can also be mixed with the food. Dosage should be increased in case of old pets. Consult your veterinarian for increased dosage.
Ingredients
The main ingredients of Digestables for Dogs are
Amylase 10M u/g(200mg), Cellulase1M u/g(50mg), Lipase 10M u/g(20mg), Protease 1M u/g.(8mg), Liver, Cellulose Brewer's Yeast, Silicon Dioxide Magnesium Stearate ,Lactose and Stearic Acid.
Side Effects/Precautions
Though no side effects are known but it is still advised to consult your veterinarian before using this medication as different pets show different kind of reaction to all the supplements.