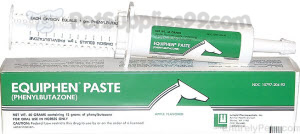 Equiphen Paste provides quick relief from joint inflammation, muscle and pain in horses.
Recommendation
Equiphen Paste is an anti-inflammatory, non-hormonal, synthetic, apple flavored and antipyretic compound that is helpful in the conditions of inflammatory in horses.
Manufacturer
Luitpold manufactures this product.
Directions
As per body weight of 500 lbs., it is given orally every day almost one to two grams but should not surpass four grams daily. For the first 48 hours, a relatively high dose is used. After that it should be gradually reduced to an adequate level. Its effect starts within 24 hours. If even after five days there is no significant clinical response then diagnosis and therapeutic approach should be re-evaluated.
Ingredients
The ingredient of Equiphen Paste is Phenylbutazone.
Side Effects
Till now no side effects have been reported.