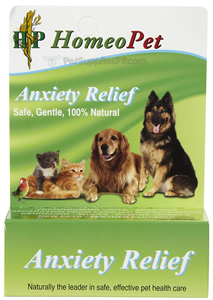 15mL
$14.00




HomeoPet Anxiety Relief Drops are helpful in preventing anxiety and stress of animals.
Recommendation
HomeoPet Anxiety Relief Drops provides calm to pets showing fear, unwanted behavior and anxiety from travel, thunderstorms, vet visits and being left alone. It is recommended for cats, dogs, puppies, birds, ferrets; pot bellied pigs, kittens, rabbits, hamsters and is safe even for pregnant female animals.
Manufacturer
HomeoPet Anxiety Relief Drops is manufactured by HomeoPet LLC.
Directions
One must consult a veterinary surgeon or guidance of manufacturer while giving dosage. Before a car trip or appointment, dosing may be administered an hour before. Three doses should be given daily to pets as a homeopathic remedy. The dosing may be stopped when the symptoms disappear.
To cats and dogs it is given orally by adding drops to animal's lips or tongue. While giving it to birds, the drops are added daily in their drinking water.
Ingredients
Chamomilla
Borax
Valeriana
Ignatia Amara
Colochicum Autumnale
Cypripedium Pubescens
Veratrum Album in purified water
Side Effects
Till now no side effects have been reported.