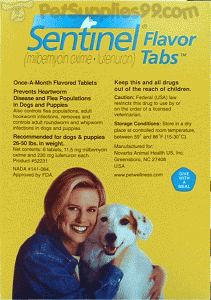 6 Month
12 Month
Brown (2 – 10 lbs)
$74.99
$134.99
Green (11 – 25 lbs)
$79.99
$144.99
Yellow (26 – 50 lbs)
$84.99
$154.99
White (51 – 100 lbs)
$94.99
$174.99




If you worry about the quality of your pet product then choose Sentinel Flavor Tabs to prevent flea infestation and heartworm. Along with this it also kills parasites like whipworm, hookworm and roundworms. Sentinel Flavor Tabs are approved by FDA so you need not to be worried about its safety and effectiveness.
Manufacturer
Novartis manufactures Sentinel Flavor Tabs
Directions
Sentinel Flavor Tabs are to be given once in a month along with the dog meal. Dosage depends on the weight of your dog. Sentinel Flavor Tabs are packed in color coded packages as per the size of dosage.
Ingredients
Lufenuron and Milbemycin oxime are the chief ingredients of Sentinel Flavor Tabs.
Side Effects/Precautions
Sentinel Flavor Tabs are one of the safe medicines approved by FDA. But in rare case it can cause problems with the digestion system leading to vomiting, diarrhea, and anorexia. It can also lead to skin problems (pruritus, congestion, urticaria) and also some neurological reactions like depression, ataxia, convulsions, listlessness and weakness
It is strongly recommended to test your pet for any existing heartworm infection. It can cause some serious side effects in case it is administered to pets which are already suffering from heartworm disease