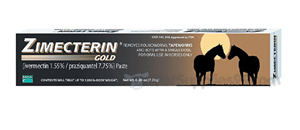 Red 0.21oz
$15.00
Gold 0.26oz
$21.00




Zimecterin Gold Paste is the most effective parasite control treatment in horse.
Recommendation
Tapeworms, Ascairds, Pinworms, small and large Strongyles, Large mouth Stomach Worms, Hairworms, Lungworms, Summer Sores, Intestinal Threadworms, and round worms are removed by Zimecterin Gold Paste. It can be used in horses of two month age or older.
Manufacturer
Merial manufactures this product.
Directions
The dosage should be given as per the weight of the horse and not according to size.
Turn the knurled ring ¼ turn to the left while holding plunger and slide the ring as per the prescribed weight marking.
By twisting one fourth to the right, it is locked.
It must be ensured that the horse's mouth contains no food.
Into the horse's mouth, the tip of the syringe is inserted.
The paste is deposited by pressing the plunger aiming towards the back tongue.
After dosing, the horse's head is at once raised for a few seconds.
Ingredients
Zimecterin contains Ivermectin and Praziquantel.
Side Effects
Although the side effects are rare but in some cases swelling, irritation of lips, tongue and mouth of the horse are reported. These reactions are temporary.