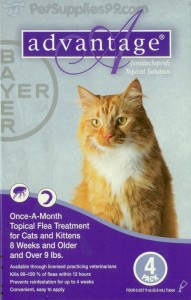 Orange, Under 9lbs. 4 Month Supply
$40.99
Purple, Over 9lbs. 4 Month Supply
$40.99
Orange, Under 9lbs. 6 Month Supply
$54.99
Purple, Over 9lbs. 6 Month Supply
$54.99
Orange, Under 9lbs. 12 Month Supply
$104.99
Purple, Over 9lbs. 12 Month Supply
$104.99




If your cat is suffering from flea bites then Advantage Flea Killer is what your cat needs for instant relief. It starts working as soon as it is applied and within 3-5 minutes it provides relief. Within 12 hours of application, 98-100 percent fleas are killed and once it is applied effectively, it continues to work for 1 month or so. Thus once applied, stop worrying about cat's health
One more reason for having this medicine in your home is that it is water resistant. So even if your cat swims or baths it remains effective.
Recommendation
The most active ingredient of Advantage Flea Killer is imidacloprid which paralyze and kills the existing flea population and thus breaks up the life cycle to avoid infestation. Imidaclorprid directly works in the nervous system and bloodstream thereby killing all the fleas
Bayer is the manufacturer of Advantage Flea Killer
Directions
Apply the content of the tube by parting the hairs from the base of head of your cat and then squeezing the tube twice on the exposed skin. Release the pressure by lifting the tube away from skin.
It is recommended to keep this product away from the eyes of cats and also prevent cat from licking the application site. If you have more than one pet at home then make sure they are kept away so as to prevent licking of the site of application.
Ingredients
Imidacloprid is the chief ingredient.
Side Effects
Till date no side effects are reported.