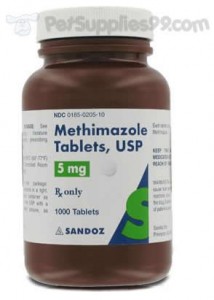 10mg Per Tablet
$0.95
5mg Per Tablet
$0.49




If your cat is suffering from hyperthyroidism a disease in which your cat suffers from an overactive thyroid gland then look no further as Methimazole is the best solution to this problem. It reduces the overall thyroid production in your pet both – cat and dog.
Recommendation
A disease known as Graves causes hyperactivity of thyroid gland and thus leads to more production of triiodothyronine (T3) and thyroid hormones thyroxine (T4). Methimazole control the overproduction by preventing the interaction of peroxides and iodine.
Manufacturer
King Pharma is the manufacturer of Methimazole
Directions
Methimazole is given three times a day usually at a difference of eight hours. It is an oral tablet and is given with food. The dosage varies from pet to pet and it is advised to consult a veterinarian for more information.
Ingredients
The main ingredient is Methimazole
Side Effects
Some of the common side effects are itching, hair loss, rashes vomiting, headache, drowsiness, loss of taste, dizziness, joint ache etc. Methimazole has very less side effect cases but if side effects are seen they are very serious. It can cause granulocytosis which means decrease in the count of white blood cells. It can also lead to decrease in the number of blood platelets which can lead to non stop bleeding. Liver failure is also one of the rarest side effects. In any such case call a veterinarian immediately.