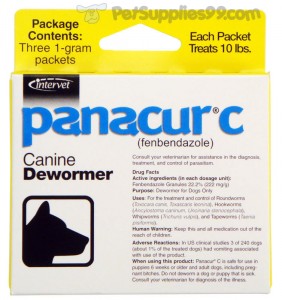 1 Gram
$4.99
2 Gram
$7.99
4 Gram
$11.99
Equine 25 Gram Syringe (Apple Cinnamon Paste)
$11.99




Panacur is a dewormer (anthelminthic) which is used to the treatment of some specific types of whipworms, roundworms, hookworms and tapeworm infections. Panacur is to be used for dogs only.
Recommendation
Panacur is effective in treating worms as it ceases energy metabolism and thus kills the parasites. It is recommended to give it once every day for three days and the dosage is 1 gram of Panacur per ten pounds of dogs body weight.
Manufacturer
Panacur is manufactured by Intervet.
Directions
It should be directed as stated by veterinarian.
Ingredients
Fenbendazole is the main ingredient of Panacur.
Side Effects/Precautions
Normally no side effects are reported but in some cases vomiting can be one of the side effects.