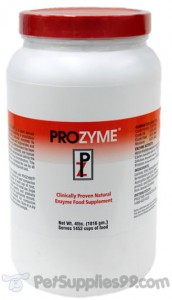 200 Gram Powder
$16.29
1lb (454g) Powder
$26.99




If you are looking for a plant derived high potency enzyme supplement for your dog then Prozyme powder is the one your pet needs. This unique powder helps in releasing the essential nutrients in your pet's food and also increases the rate of absorption of fatty acids and other required nutrients. This powder is very effective as it is not destroyed by the stomach acids. Apart from nutrient and fatty acids it also helps in deriving Selenium, Linoleic Acid, Zinc, Vitamin B-6 and Eicosapentaenoic Acid (EPA-Omega 3).
Recommendation
If your pet is suffering from immune disorders, allergies, excessive shedding, flatulence, skin or joint problems then this plant derived enzyme supplement powder is recommended. Prozyme Powder is formulated by special cultured enzymes which hydrolyse the starch, triglycerides and proteins. This results in breaking down of the cellulose.
Prozyme Powder is a FDA recognized product and thus can be used on dogs and cats without worrying about the safety and effectiveness.
Manufacturer
Prozyme Powder is manufactured by PBI/Gordon Corporation.
Directions
The usage of this is very easy. Just follow the instructions. Give ¼ teaspoon of this in each food cup. Start with lower dosage and then increase it steadily. This powder mixed with food will show immediate effects. If pet is 8 years or older then double the dosage.
Ingredients
Protease 8 GDU/gram, dried bromelain derived from Ananas Comosus,dried Aspergillus oryzae (var.) fermentation product, Lactose, Alpha Amylase 2000 SKBU, Cellulase 50 CCHU/gram, Lipase 200 LU/gram.
Side Effects
There are no side effects reported for this product.